The Consul General of Singapore, Ajit Singh, was the guest speaker at our meeting on Tuesday. Rotarians were glad that he found the time to be part of the day's proceedings and take us briefly through the history of Singapore.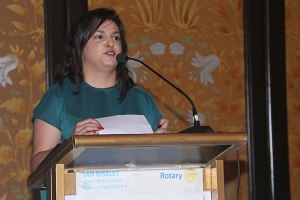 He laid emphasis on how his country, like ours, was built on the philosophy that there can be unity in diversity. "No racial riots have broken out, since Singapore [gained] Independence in 1965," he began. The reason for this lies in the way that the country's constitution was framed after riots broke out between the Chinese and Malays on the verge of liberty.
However, in dealing with the aftermath of the 1964 riots, Singapore staged its "greatest achievement;" The incident shaped Singapore's future policies, which centred on the principles of multiracialism and multiculturalism.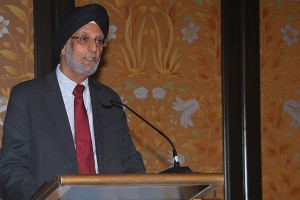 There is immense diversity that reflects through the pages of Singapore's history, offering many reasons for the clear demarcation of townships like Little India, Geylang, and Chinatown, which exist even today. While Ajit Singh acknowledged that there has been a tendency among citizens to stay "loyal to the culture of their own mother countries," he did not hesitate to point a finger at the imperialists for applying their policy of divide and rule.
"Today, if you were to ask someone from Singapore to define themselves, they would say I'm Singaporean first, then Singaporean Chinese, Singaporean Malaysian, or Singaporean Indian." This has been the result of the "conscious effort made by our founding leaders." They were always of the belief that economic and financial welfare of a nation must overcome the barriers that religion and language often seem to build.
This belief has been enshrined in Singapore's constitution in a number of ways: The Presidential Council for Minority Rights ensures that the rights of minorities have not been overlooked by way of any bill being passed in parliament, single member constituencies have been replaced by group member constituencies (resulting in the reservation of one seat for a minority leader), and lastly, one presidential election every five years has been reserved for a minority candidate.
Another set of examples allowed Ajit Singh to throw light on Singapore's methods of maintaining religious harmony. Not very different from the way India has tackled the issue, however, it is worth noting that speaking for all Singaporeans, Ajit Singh concluded: "You can have all these rules and laws on racial and religious harmony, but they are no good, if the economy isn't doing well."
He was proud to reveal that Singapore's "per capita GDP is one of the highest in the world." This has allowed the government to ensure that poorer communities can be nourished in order to compete freely and fairly in order to build a better economy for themselves and their country. That is why Malays are offered free education, thus "empowering them to get good jobs." And jobs are offered on merit, and not on the quota system.
The outcome of this? "The Chief Justice of Singapore is Indian, the head of the equivalent of the Reserve Bank is Indian, and, a year ago, the chief of army was a Sikh." Unity in diversity, indeed.