At the end of the District Governor's speech, President Ramesh Narayan said, "His informality, his rigid approach to – one thing only – being on time, and the fact that he has been able to dispense with the frills and fuss, make him an extraordinary man."
As you well know, District Governor Prafull J. Sharma, or the extraordinary man – a title well deserved – is someone who wears many hats. But what makes him instantly likeable is his ability to put across his thoughts with the ease of a seasoned thespian. Thus, it is not surprising to realise that his resume does reveal a passion for the performing arts, and that he has enriched the stage with several skits in Hindi. So during the time allotted to him at the pulpit, he spoke in English, Hindi, and at times, engaged us with his repertoire of Urdu poetry.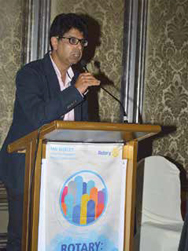 His itinerary, before the afternoon address, covered an interaction with office bearers at the headquarters in Nariman Point. There, he was able to get clarity on the Club's plan for the next six months. Thereafter, he sat through a series of presentations made by five Interact clubs, two Rotaract clubs, and other Rotary members. Therefore, a major part of his speech acknowledged and praised the warm hospitality and vitality with which our club is building upon its legacy.
"Today," the speaker said, "I felt like I was entering the house of my great great great grandfather." Our club is "the oldest club, among all the 91 clubs in India, established in the year 1929," but there, you have a fine example of what our President referred to as the Governor's informality. He continued, "After being taken through the quarterly report submitted to me, I can confidently say that the Rotary Club of Bombay is in safe hands."
Although not present physically in the midst of "all the activity," the District Governor claimed The Gateway to be his best source for "all that is happening in this club." And to those behind the constant flurry of activity, he showered praise in all the three languages, followed, each time, by a sustained applause.
He was especially happy that office bearers have been quick in executing his suggestion of adhering to a certain level of transparency, with regards to the disclosure of "where money that has been donated is going." And he is sure that it would only reap a positive outcome, considering the wave of optimism witnessed across all the clubs after the mandate was declared.
His version of an interaction with a non-Rotarian sums up the legacy of our club – perhaps it is an interaction we have all had – when a non- Rotarian asks, "Don't Rotarians just meet for parties?" And you wonder how you could possibly explain that "there is Bhavishyaan, [another] project called Jal Jeevan that gives 100,000 slum dwellers access to clean drinking water, and that the Rotary Club of Bombay has built an entire district, Talwada, only 113 kms away. Be it a polio drop, female empowerment, child education, or renewable energy, things are happening from morning to evening, but it is very difficult to explain that."