Rtn. Srinivasan Prasad vacated the pulpit for V.G. Siddhartha, after requesting the latter to tell rotarians why he had accepted their invitation to be the Tuesday speaker, even though he has been known to keep a very low profile.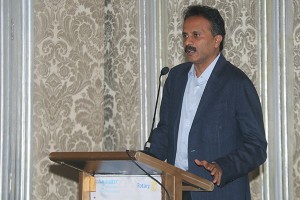 In answering the question, the entrepreneur, who has given us Cafe Coffee Day and Mindtree, the largest IT park in Bangalore, also gave us a reason to keep serving society.
"My dad is still a rotarian and he is 94 years old," Siddhartha stated. Back in the day, his father bought a plot of land from a "small trader community for 70,000 rupees," so that the Rotary Club of Belur could build a school. The negotiations went on for days before the landowners were ready to part with their land for that amount of money, but his dedication was heartwarming. So much so, that the owners ultimately returned the sum because they realised that his efforts were only aimed at empowering the community – much to Siddhartha's surprise.
"That day, I learnt that if we do a good job, society supports us."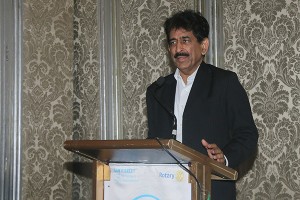 On another occasion, when communal riots broke out in Belur, a rotarian, who belonged to the Muslim community, suffered the misfortune of watching his shop being burnt to ashes. "I still remember" as rotarians, including my father and his colleagues, "felt like their own property had been burnt" that day. So, true to the rotarian spirit, Siddhartha did not hesitate in affirming the fact that "in the rotary, once you are friends, you are friends for life."
These and many other instances were what brought out the passion for service in Siddhartha. Many years ago, when he was hiring his first employee for Cafe Coffee Day, the entrepreneur did not hesitate in choosing a Muslim boy. Besides, even today, he is only a year away from inaugurating a multi-speciality hospital "without a billing counter" in Belur – proof that the good work done by a rotarian "will have a good influence on their family, too."
There was another aspect about his family that the speaker revealed when it came to divulging his mammoth journey towards setting up Cafe Coffee Day. It is doubtful that he would have envisioned such a dream for himself, if his family were not specialised in growing and selling coffee for over 150 years. And if his father had nonchalantly let his son leave the plantation for a day job in Mumbai.
After some negotiation, his old man finally obliged – but with one condition: Siddhartha was given 7.5 lakhs, as capital, to start a business in the city, but if the business were to fail, life in the plantation would prevail. In Mumbai, he worked for J.M. Financial after "gate crashing Mr. Mahindra Kampani's (the owner) office to request a job," which proved to be a successful endeavour. Two years later, he was back in Bangalore buying and selling shares in a bullish manner – purchasing a coffee plantation every time he chanced upon a jackpot.
We then "fast-forward" to 1992, by which time the speaker had bought over 4,000 acres of coffee estate. While that was enough to meet the demand of his coffee shops, there was one obstacle he was yet to deal with. In those days, coffee was not sold and exported by the plantation owner; the produce was handed over to the Coffee Board, who would pay only one-third of international prices. It was at this moment in the history of Cafe Coffee Day – or, rather the history of coffee – that Siddhartha's entrepreneurial zest earned him an opportunity to discuss the issue with Manmohan Singh, the then Finance Minister of India.
Similar such did-you-knows about the history of the coffee shop, now spreading its wings overseas, surfaced throughout the latter half of his speech. The fact that the chain of cafes delivers 1.8 billion cups of coffee- and tea – every year, from 1,700 stores across India and abroad, encouraged someone to make him an offer to "get out of the coffee business for 850 billion dollars." But obviously, the offer was refused because it was not worth the dream "of creating a brand from India, that every Indian could be proud of."