The Tuesday meeting began not with a speaker as is typical, but a technical glitch that made the experience of singing the national anthem a little more heroic, for we had to keep in tune without being guided by the backing track.
Till the last moment, many were unsure whether or not to assume that the speaker, an Indian actress and United Nations Environment Goodwill Ambassador, had ducked or been delayed. The suspense did make many resort to the assumption that the absentee had a bad reputation for putting on airs, a trait synonymous with the glitterati. And then, Dia Mirza arrived.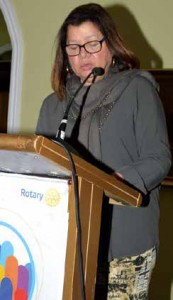 She was ushered to the pulpit within a few seconds of arriving after posing with her much deserved Rotary Club of Bombay Social Service Award. Dia Mirza thus took the opportunity with the honour it deserved, and we were let on to a very interesting perspective of dealing with the issues that our environment is facing. While she did mention those seemingly age-old statements, such as, "Health is imperative to all human progress," "Our fundamental right to live is our right to breathe," and "It's imperative that each one of us use our voice to make a change," among others, she could not be blamed because "unfortunately, we have moved far away from nature, and we seem to feel that we can do without it."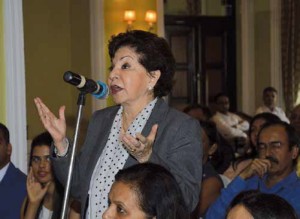 However, "an urgent requirement for all human development" according to her begins with concentrating on three key areas. First, "the complete ban of single use plastic." She stressed this key area of change by saying, "The plastic straw that we use for a few minutes, lasts in the environment for five hundred years." This alarming revelation was not offered without a clarification that she wasn't completely against the use of plastic, but, currently, because we lack the "infrastructure to manage our waste," the harmful raw materials of plastic are polluting our air, water, and soil.
"I haven't seen the sea link clearly since October," alleged Dia Mirza as she attempted to highlight the second key area of improvement. We all have noticed the smog that has settled over the city during the past few months, but "no one is talking about it", instead, Delhiites get a bad reputation for their air pollution levels. The third area of concern is the rapid loss of tree cover, which we have overlooked in a hurried search for what everyone calls urban India. But the environmentalist sweetened this bitter truth by sugar coating it with some nostalgia: "Remember the song from the movie Chalti Ka Naam Gaadi?"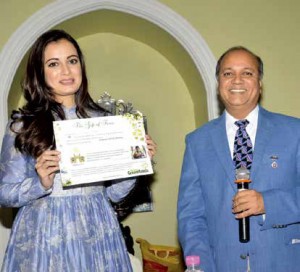 In the song, the director depicted Mumbai in the fifties. Back then "you couldn't see Victoria Terminus because it was covered with trees." The same trees are no more, because somewhere, somehow, we forgot that trees are the natural filters of the air we breathe. So there was a lot of truth in the UN Ambassador's belief that all we really need to do is go back in time, as that was when we were better environmentalists than industrialists.
Then, Dia Mirza requested us to stand up to better enjoy a surprise audiovisual. Although we sang out of tune the first time, the audio helped us sing in tune, and the video gave  us a glimpse of all the natural habitats that deserved to be protected. If you couldn't guess, it was simply a version of the national anthem that played without any technical snag.