All of us, at some point in time, have been guests of Mr. Kushroo Santook by lending our patronage to the arts at the National Centre of Performing Arts (NCPA). Last Tuesday, we had the privilege of welcoming him as our guest. In the time he spent with us, he was able to give us an insight into his life, and prove himself more than worthy of the Shyam Munshi Lifetime Achievement Award in arts for the year 2017 to 2018.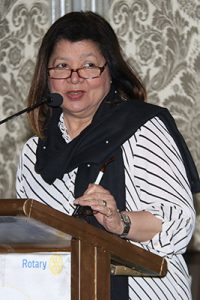 Those who are unaware of his distinguished career may best learn of his accomplishments through these lines read out by Rtn. Shernaz Firoze Vakil: "Vitalising the institution of music, and actively preposting western classical music in the country. Giving India its very first Symphony Orchestra." So how did the arts find a loyal ally in Mr. Khushroo Santook?
"Growing up in a home where music was constantly playing, and accompanying my mother to concerts in Bombay where valiant, local performers gave their best, paved the longing to hear this music (Western Classical Music) in the cultural capitals of Europe," the awardee explained. He was also given three months off from school to join a group of Indian western classical connoisseurs on a tour of the west. "Our principal, when shown the itinerary, readily agreed, saying that this exposure is well worth the next term," he said.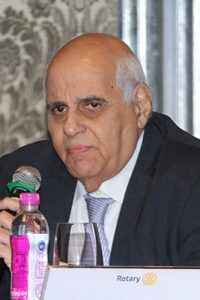 He went on to study law because he thought he was destined for it. Had he not, he would have broken a long standing tradition in his family. However, his destiny proved otherwise; a short while before completing his articles, the opportunity to become one of the founders of Bisleri Pvt. Ltd. proved to be far more interesting than "the rather serious profession." Clearly, the field of law couldn't claim the talented youngster.
On the other hand, music continued to woo him, and tennis was a pleasant distraction too. However, the sport was more than a distraction in his youth. It was one he played well enough to compete internationally, and was elected the youngest Hon. Sec. of the International Lawn Tennis Club of India. By now, we know which field would finally claim the talented youngster, but the journey was indeed an engaging one.
Who would have thought that bottled water would, probably, not have initiated mass production in India if it weren't for tennis? As strange as it seems, it remains true. Bisleri was allowed to be manufactured in India after Mr. Kushroo Santook was able to get an old tennis friend, the country's Industry Secretary, to see reason in his idea of introducing bottled water in India. Such are the friendships formed on court – although the friendships formed through music are equally enthralling.
To do more justice to his passion for music, Mr. Kushroo Santook had to wait until he joined the Tata Group of Companies – a long association that continues to thrive today, as the Chairman of the National Centre of Performing Arts. Before this part of the journey is described, it's worth quoting Mr. JRD Tata: "When the cause is good, the means will follow." As many know, he was the founder of the NCPA, and when he handed over the reigns to Mr. Kushroo Santook, he often struggled to understand how the founder's artistic vision would fill seats at the NCPA.
But time and effort proved his struggles unnecessary. The speaker worked closely with Marat Bisengaliev, an acclaimed violinist and conductor. Together, they set up the Symphony Orchestra of India that has received both applause and accolade the world over. He formed close friendships with Indian Classical music stalwarts like Pt. Ravi Shankar, Pt. Hariprasad Chaurasia, and Ustad Zakir Hussain, to name a few. These associations materialised into what NCPA is today – a booming centre for the arts.
"When Carnegie Hall was built, Andrew Carnegie told the people of New York, 'I have given you brick and mortar, now you run it,'" our guest said, in order to highlight that a hall is mere brick and mortar without a show. The question that remains is, will the means follow?